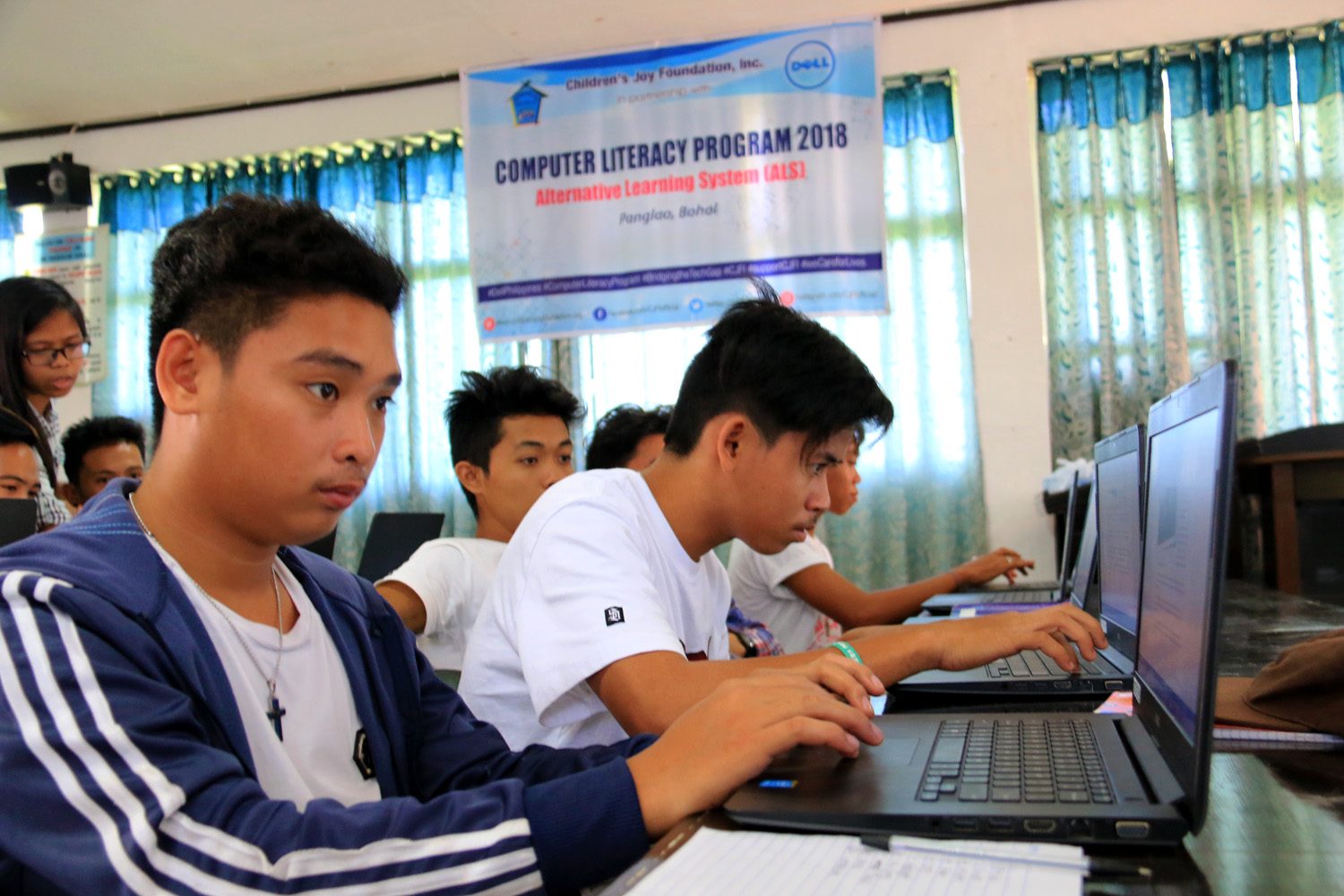 The Children's Joy Foundation, Inc., in partnership with Dell Technologies and its Angat Buhay LGU Partner – the Municipality of Panglao Bohol, held the Culmination and Recognition Ceremony last March 5, 2018, for its 2-week Computer Literacy Program in the island of Bohol.
The program commenced last February 19, 2018, catering to more than 160 beneficiaries consisting of Panglao's Alternative Learning Systems (or ALS) students, out-of-school youth, Senior High School students, and LGU staff and employees of the municipality.
Words of inspiration from Panglao's Public Employment and Services Manager – Apolinar Fudalan, the municipalities' Acting Mayor – Hon. Pedro Fuertes, and Dell's Sales Support Senior Adviser – Ms. Bernadete Mateo were addressed to the graduates who received certificates of completion for those who completed the courses and certificates of recognition for the top performers.
The said 2-week educational program implemented by the Children's Joy Foundation, Inc. is a part of Dell's "Legacy of Good". CJFI and Dell's partnership aims to bridge the technological gap in rural areas and communities where access to technology is either limited or completely absent.
The program covered basic and advanced computer lessons on Microsoft Office applications (such as Word, Excel and Powerpoint) and an Introduction to Graphic Design and Photo Editing course. The tutorials that the beneficiaries have undertaken acquaints them with the use of the computer applications in the daily work environment which can help them in future employment opportunities.
Ms. Bernadete Mateo, one of Dell's senior advisers, in her speech, challenged the participants to make use of the knowledge they have acquired not only to make their daily tasks easier but also to explore their new skills further and probably even develop their own game applications someday.
Successfully completing the first leg of the Computer Literacy Program Visayas Tour in Panglao Bohol, the Children's Joy Foundation, Inc. Computer Literacy Program Team members are on their way to two more municipalities in the Visayas region: (1) Gandara, Samar and (2) Baybay, Leyte.
Written by: Rodney Z.